Project Life with Nae
09:00
Hey guys,

Nae back again with another blog post and video. I am hoping to include as many videos as possible on my Polly! posts. I hope you are all really enjoying them. I love making them!

Today I am finally able to release my week one Project Life layout using the Polly! Raspberry Shortcake January Kit. I absolutely love the light soft colours in this kit, not to mention the abundance of teal and pink. Those colours are like my power colours and I know when I use them (in whatever amount) my layouts are going to be pleasing to my own eye.

So like Bernii, I am one to carry my embellishments and theme across an entire double page layout. I just feel it brings continuity to the page and what is essentially your week in project life. Be warned though, I am an embellishment fiend and so my layouts are really bulky. I am yet to finish an entire year in Project Life but I have a feeling I am going to need more than two albums to hold my works.

So enough of the talkies. I bet you guys all want to see what exactly I came up with this week!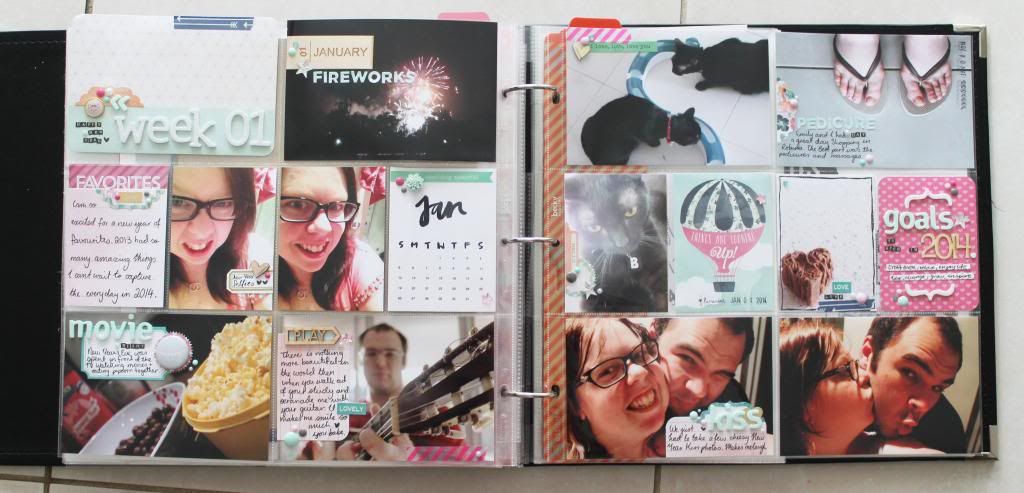 Most of my photos are dark and carry a lot of shadows thanks to the midnight new years party that my boyfriend and I had at our house (just us and our kitties lol) but I just wanted to show you how even with light water coloured cards, you can still incorporate bright and colourful accents and embellishments. I feel the light cards really allow the embellishments and more importantly the photos stand out.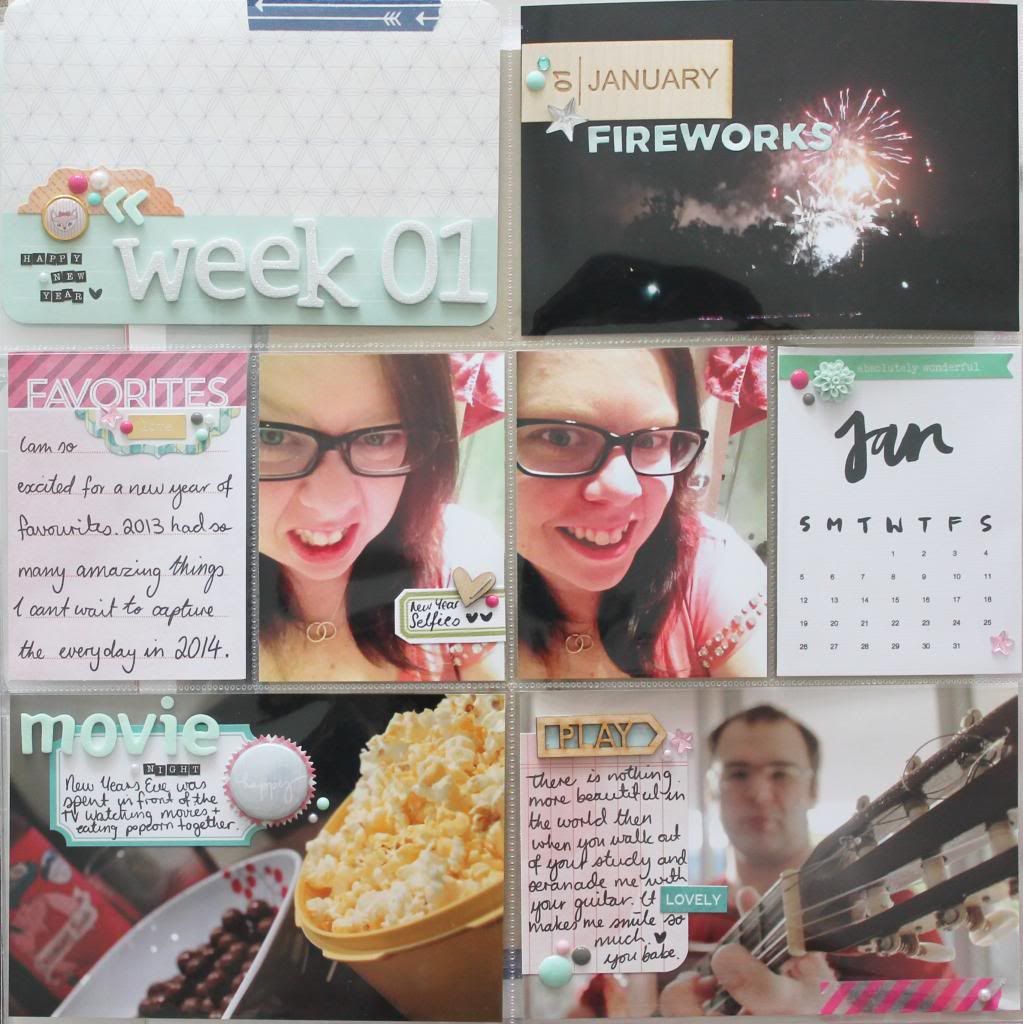 I love doing a 6x4 title card for every week. It allows me to do a little bit of traditional scrapping on a small scale while still using it in my Project Life. A new element I have incorporated into my 2014 album is a small 3x4 calendar on the first week of each month. as much as I loved the free printable with the January Polly! kits, I wanted something that was a little more mono tone and something I could customise to suit any colour scheme and layout I create. If you are wanting to check out the Polly Printable in action,
you should check out Lauren's PL post
. She used the Printable in her layout and it looks amazing!!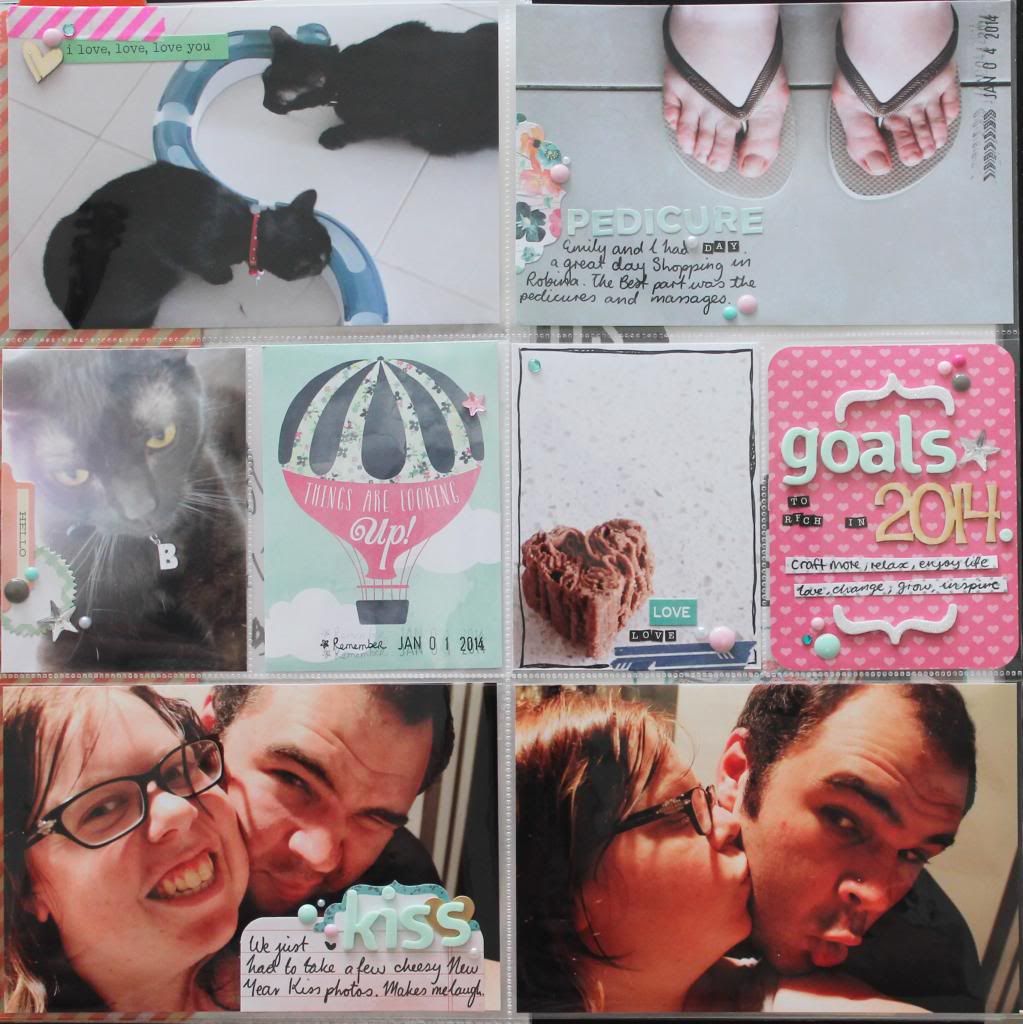 Little did my boyfriend know that when taking photos like this that they would end up in our PL albums. He almost died when I told him they were also going up on the internet and being shared with the 100's of you that follow Polly! After a few months he is now used to it but I still laugh every time he pulls a face.
I really loved the little air balloon card that came with the kit this month. I was so excited when I opened my kit and found it on the top of the stack waiting for me. Super cute and it was a 'must use' on my first layout. I love journalling on my photos and documenting what is actually happening. On this one layout here you can see thee different ways to journal on your photos and cards. I really am enjoying using strips of patterned paper to journal on, like on my goals 2014 card, where I also got to use the adorable 2014 veneer from the kit.
Last but not least, here is the process video for todays layout. I have included some up close photos of some of the high points of my layout. I hope you enjoy.
Please don't hesitate to leave comments and messages on the video, on my youtube, blog and most importantly here on the Polly! blog. We love to hear from all of you! If you have any videos or photos using any of the Polly! kits, don't forget to link us up so we can swoon over your amazing creations.
I cant wait to have another play with the Polly! Kit and share more of my creations with you in the weeks to come.
Until then, happy creating guys.